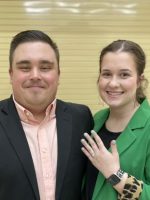 Associate/Youth Pastor
870-247-1343
870-692-0965
My name is Zack Pullman; everyone knows me as Pully. I am currently engaged to my fiance, Anna Claire Smith, and we are to be married on June 1, 2024. I currently serve at Bethany Missionary Baptist Church as the Associate/Youth Pastor. My ministry at Bethany began as an intern in 2014. In 2017, The Lord saw fit to use me as the Pre-Teen Pastor here at Bethany and just last summer I became the Youth Pastor. It has been truly been a privilege of mine to serve here and see all the blessings that God has bestowed upon this great Church and Youth Group.
Here at Bethany we are an old-fashioned, KJV preaching Church. I am thankful to serve in such a church where the KJV is taught from and preached from. Furthermore, I am thankful that God has put me in this ministry and that old-fashioned church is still alive and well today.
If you are looking for a church home, we would like to formally invite you to join our services. On Sunday, our services begin at 9:45a.m. with Sunday School, with our Preaching/Worship service following at 10:30a.m. Our evening services begin at 5:15p.m. with BTC (Baptist Training Course, basically night Sunday School), with our evening Preaching/Worship service following at 6:00p.m. Our youth programs are divided between Teens and Pre-teens on Wednesday nights and they both begin at 6:30p.m. If you have any questions, feel free to contact our office Monday-Friday or send me an email and I will get back with you as soon as I can.